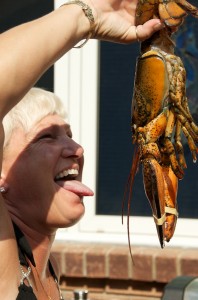 Well it was a great weekend. As you can see from these pictures provided by our good friend Dana. It was Matthew's birthday party Saturday and a lobster party Sunday at Shipman's and Moni's place. It was fun and the food was great. Shipman finally found a wine/drink mixture that Natalie enjoyed after 7 years of searching. The lobster was great and the company was fun. It was a good end to a nice weekend. As you can see the food was a big part of the entertainment. We all had fun ripping apart our food to eat it. Except Dana who realized he could not stomach the tail of the lobster. The best part!
In addition to being Alexandra, Félicia and Matthew, Dana and Thea joined us and the kids all enjoyed the hot-tub. The Shipman's hosted at their beautiful home out in Metcafe with a huge back yard for the kids to run through the sprinkler. The weather was awesome at 40 degrees with the humidity and when the huge thunder storm came over head it lowered the temperature quickly. Unfortunately it destroyed our new gazebo we had bought Saturday for Matthew's party. The last storm destroyed our umbrella.
Matthew and Thea were happy to enjoy the open air around the property and in and out of the hot-tub. Matt was very happy to see his best friend two days in a row. Thea and him just get along really well and it is nice to see them run and play together with no worries. Even the next night Matthew was asking for Thea and wondering how many more days till she visits again. Don't worry dude she'll be by soon.
On a rare moment Natalie and I got to pose for a picture together thanks to Dana. Not many of those floating around. Thanks Dana.
More images to come when I get the chance to look at the ones I took. I am thinking these pics are great and really show a lot of the mood of the day. Enjoy!